DEV & DESIGN
Last year was a great year in the web analytics world. We saw awesome advancements from just about every vendor in the web analytics industry.
Some of my favorite achievements of the past 12 months were:
Google rolled out the Google Tag Manager to the masses and launched very cool functions such as auto event tracking.
The addition of demographic data in Google Analytics has led to amazing insights.
Adobe launched a new (much improved) interface to Adobe Analytics which showed how useful a web analytics solution can be when owned by a company that made its name with UI design tools.
Tag management companies such as TagMan and Tealium landed many great new customers as well as big rounds of funding.
With the start of 2014, we have more experienced web analysts out in the field than ever before and organizations are now relying (rather than hoping) upon analytics for improvements in their bottom line.
In the year ahead, I am optimistic that we will see the pace of advancement in the web analytics world accelerate. Below is my top 10 list of trends that I would love to see over the next 12 months.
VISIT ALSO: Ask Professional; For Designer/Developer Roadmap
Better Content Analysis Tools,
When it comes to engagement with content (text, graphics, video, etc) most web analytics platforms show the same data – views, landing page visits, next page views, exits, goal contribution, etc. To get reporting on actual engagement with the content, analysts need to implement other tools to track engagement such as scrolling, mouse movement, zooming, and highlighting. This divide in reporting is a major challenge for content producers.
Better Tools for Integration with Third Party Data,
If 2013 was the year for "Big Data" then 2014 should be the year for data integration with web analytics. While platforms like Adobe Analytics and IBM CoreMetrics did a decent job at enabling analyst to integrate data from multiple sources (i.e. CRM, Call Center, Lead Nurturing) with web analytics data, most platforms are lagging in this area. This year we want to see web analytics platforms help site owners to have a more 360⁰ view of their prospects and customers by providing excellent tools for integrating data from other platforms into the web analytics environment.
Multi-visit Click Paths,
Unless you're selling competitively priced pencils at auction, odds are that your visitors are looking at your site multiple times before (and after) converting. But today almost all web analytics platforms focus on reporting for a single visit. There are persistent tracking variables that can be used to show multi-visit attributes. But site owners need to see how visitors' behaviors change as they learn more about products/services and as they start to interact with the organization offline (i.e. sales calls).
Physical Interaction Tracking,
The way we interact with websites is changing. Touch screen laptops, smartphones, tablets, gaming systems with web browsers, etc all allow us to physically interact with a website. Web analytics platforms need to help us track pinches (zoom), swipes, device orientation, tilts, and other physical movements. With the current platforms tracking this type of activity requires a lot of custom JavaScript. In 2014 we want to see the web analytics tools provide out of the box tracking of this type of interaction.
Better Video Tracking,
Sites have been using more and more video content every year for the last 5 years. But most web analytics platforms still don't do a very good job of helping analysts understand how visitors engage with videos. There are a lot of fancy things people can do to track video engagement with integrating with players (i.e. YouTube) and custom JavaScript functions. But this level of complexity prohibits most site owners from tracking common video functions (i.e. Play). Web analytics vendors should provide better out of the box video tracking functions. It would be great to see specific video reports in web analytics tools the way we see specific mobile reports today.
Multi-domain Tracking,
Many corporations big and small have multiple sites across multiple domains. Their prospects, customers, partners, employees, etc likely traverse across domains in multiple visits or possibly single visits. But today, most (not all) of the web analytics platforms don't do a thorough job of enabling site owners to track visitors across domains. While this is not a problem for most site owners, for companies with diverse initiatives in marketing, demand generation, lead nurturing, and customer support this can cause a major gap in tracking the customer journey. In 2014, we want all major web analytics vendors to solve this tracking problem with easy to use configurations.
Compensate for "Not Provided",
As Google continues to encrypt more and more user search submissions we have seen the percentage of users with Not-Provided search phrases grow by over 100% across sites that we monitor in the last year. This makes measuring SEO performance and optimization very difficult. Analysts need Google to provide some sort of help with this. If not showing the exact search phrase, perhaps they can expose search phrase categories or better integration with Web Master Tools. It would be easy for tools like Google Analytics to create reports that show which search phrases generated traffic without associating the phrases with individual users. This would help site owners with SEO reporting without risking user privacy or website security.
CMS integration with Web Analytics,
The most commonly used administrative tool on most sites is the content management system. This is the area where people making site updates need information on how pages and pieces of content are performing and how visitors are interacting with the site. We are hopeful that some CMS vendors will make big improvements in 2014 by enabling plug and play integration with web analytics tools to empower their internal site owners.
Better Data Exports,
Google made some great strides in 2013 to share Google Analytics data with other platforms and a large number of dash-boarding companies built/updated plugins for Google Analytics. But almost every other vendor in the web analytics space does an insufficient job at sharing data which makes dash-boarding and analyzing closed loop sales cycles unnecessarily difficult. We are hopeful that the other web analytics vendors will follow Googles lead this year.
Data Manipulation within Web Analytics,
Platforms such as Google Analytics, Webtrends, and Adobe Analytics are great at tracking visitors and then presenting the data. But the platforms do no provide much functionality in terms of manipulating the data once it has been brought into the platform. Providing tools for editing fields and values would provide web analysts with powerful Business Intelligence capabilities to fit the tracking to the organization.
This year has barely started, but I am very hopeful that it is a defining year for how organizations worldwide gain and utilize customer intelligence in the digital channel. While few organizations fully utilize the web analytics tools they have in place today, there are progressive teams pushing the limits of what website tracking can do to improve digital experiences and I am optimistic that in 2014 the industry tools are going to evolve even farther to drive the entire web industry to new heights.
Drawing and sketching were once activities limited to pencil and paper, but for budding artists in the digital age, there's a wealth of online, browser-based tools to let your creativity run wild.
It doesn't just have to be a hobby or pastime, though — drawing is useful for brainstorming and problem-solving, and these web apps can aid in any profession.
VISIT ALSO: 3 Tools to Build Your Mobile Apps
We've picked 12 of the best drawing and sketching apps to suit any level of artist, ranging from professional-grade applications to simple tools for doodling. They're all free, and since they're all online, they can be accessed from anywhere.
Sketchpad is a browser-based drawing and image editor built in HTML5, combining WebGL effects with vector editing. Its rich, flexible feature set means you can create almost any image you want. It's super simple to save your work — just click the disk icon in the top right of the screen, and the program displays your image as a PNG, which you can then save to your desktop.
The drawing tools include text, brush, shape, pencil, paint bucket, stamp, spirograph, calligraphy, marquee, crop, eraser and color-picker. Sketchpad also supports gradients, and the History palette allows you to review previous revisions.
PencilApp is a recently released, simple, browser-based pencil application that is perfect for quick sketches and drawings. It features a minimalist interface with just a pencil, eraser and a text-typing tool. You can change the size of the text and choose from one of the five pre-defined colors.
While there's no "undo" command, you can choose the eraser tool and edit out something you've drawn. The Save function allows you to save your artwork as an image.
PencilApp is built using HTML5, CSS3 and the (jQuery) jqScribble plugin.
AWW (which stands for A Web Whiteboard) is an online whiteboard and drawing app that allows for basic collaboration with a group of people using a variety of devices. The simplistic nature of the interface and controls means there is a low learning curve and you can get started straight away.
It features a choice of seven colors, three sizes of pencil, an eraser and a text tool. To invite others to collaborate, just send them a link to your drawing board and they can join the project. You can save the drawing as a PNG image and upload, share or send through email.
You can embed AWW on your own site using the plugin or API.
Sumo Paint is a fully featured image editing and painting app, which at first glance feels like a browser-based version of Adobe Photoshop. You can edit existing images or start with a blank canvas, with a wealth of advanced features to make use of, including layering tools, blending modes, blur tools and the ability to make finite adjustments to an image to improve the quality.
Other options include contrast, color balance, brightness and more. Once you've finished your creation, you can save the image to your desktop in PNG or JPG format, or as a SUMO file that you can open and edit at a later time.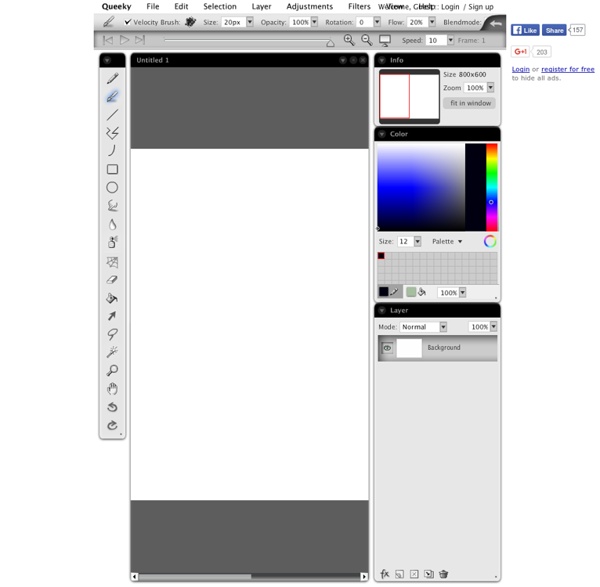 QueekyPaint is a unique online drawing tool that allows you to create videos of your work while you're painting. You can create your own speed paint artwork, or visit the galleries to learn from the creation process of other artists. It also offers you the ability to edit your photos, publish your artwork and collaborate in projects and groups to meet artists with similar interests. You can even create your own group for a specific topic and invite others to join.
Save artwork to your desktop or Queeky account, or export it as a JPG, GIF or PNG. You can edit images using the suite of tools provided, which includes generic tools, layer effects, filters and adjustment options such as contrast, brightness and more.
Pencil Madness is a simple app that lets you draw and publish images to the Pencil Madness gallery. You can save Images to your desktop as JPG or SVG files once you're finished. The app features a number of brushes and brush effects to draw whatever you choose, along with a range of colors. You can change the size and opacity of the brush, use the eraser, zoom in and out, and even undo and redo actions. Extract colors from an image to create a color palette to use within your drawing.
The app is also available on the Amazon App marketplace to use on your Android mobile device.
Sketchpad is a fun, feature-rich drawing application written in HTML5. It's non-destructive and doesn't limit itself to just drawing and sketching — you can even sign PDF documents and export them to your desktop, which is much more efficient than downloading, printing, filling in, scanning and so on. It features an easy-to-use drag-and-drop interface with many tools, including text, paintbrush, pencil, calligraphy, stamp, spirograph, crayon, arrows and more.
You can undo, redo and erase any part of your creation, and even take images using your computers in-built camera.
Sketch & Paint allows you to get creative and get started quickly. Its simple interface and variety of sketching tools include a paintbrush, color kit, zoom view, eraser and opacity. You can set the dimension of the canvas, set your color and brush properties (such as size, pressure, diffusion, scatter and shake). Multi-level undo and redo is included, and every line you draw is treated as an individual object and can be dragged and deleted separately.
Keyboard shortcut functionality is provided, which makes it easy to select and adjust tools and settings.
Draw Island is a simple web-based tool for creating drawings and GIF animations, with the option of various canvas sizes, and featuring pencil and paintbrushes. You can increase the brush size and opacity level, or choose between the shapes available to create your drawing. There's an undo and redo function, as well as an eraser to remove any unwanted parts of your artwork. You can use the color wheel to pick any color you want, or you can enter your own Hex code.
You can import images, easily create a GIF, control the animation delay, and add text to any drawing.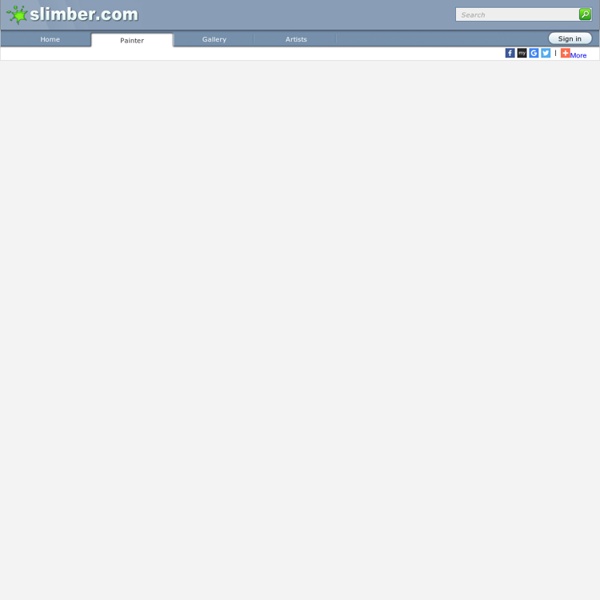 Slimber is a browser-based app that allows you to draw, replay and save your artwork. It's easy to get started — just choose your canvas dimensions and begin creating. A palette of tools is provided, which includes a pencil, brush, line, shapes, paint bucket, eraser and color-picker. You can choose the size, spacing, shape, overlay and flow of your paintbrush and specify your preferred RGB color.
Once you're finished, you can click "play" and it will rerun your artistic process. Then you can save and write a description of your artwork. Submit your piece to the gallery to see your creation and receive the URL address or embed code to share.
deviantArt Muro is an online HTML5 drawing application, released in 2010 as a celebratory offering for deviantArt's 10th birthday. It's perfect for both hobbyist doodlers and professional artists. Your work is saved automatically (to your Sta.sh account) from your first brush stroke, and you can share your creative process to be replayed, published and shared. There are more than 20 brushes to choose from, and you can specify brush opacity, size and fill opacity. You can add or remove layers and adjust brightness and contrast. Filters include blur, sharpen, high pass, emboss, noise and more.
Images can be exported as PNG, layers or saved to your Sta.sh account.
FlockDraw is a seamless collaborative drawing and painting tool that makes it easy to draw in real-time with other people (or simply create your own art). To begin, click "Create your session" and start drawing, and invite others to join by providing them with your unique URL.
Use shapes, text, lines, the brush tool and the provided color palette to create your own drawing. You change the size of your brush, and save your image to the gallery or share it on social media or via the unique URL.
iOS 7 is being heralded as the most significant update to iOS since the debut of the iPhone back in 2007. But are the changes enough to keep up with the mobile competition?
iOS 7 is now available and as millions of users are learning, it's different. Really different. Since its debut at WWDC in June, commentary about the OS has been mixed. The first few betas were rough — both in looks and in stability. We're happy to report that the official release of iOS 7 is polished, thoughtful and packed full of new features.
The most visceral change to iOS 7 is its interface. As we've discussed (and dissected) before, iOS 7 is a complete visual rewrite of the operating system. Literally every pixel, every screen, every icon was redrawn and rethought for the new OS. The results are stunning.
Although the initial beta versions of iOS 7 left some users — and online commenters — feeling less than friendly, the final result is incredibly well executed.
Let's set one thing straight — calling iOS 7's UI "flat" is not accurate. Yes, the heavy textures and intricate icon details from iOS 6 and below are gone, but the amount of shadow, gradient and subtle texture in iOS 7 is anything but "flat."
The parallax 3D background effect — while subtle — is one of my favorite parts of the new UI. It's playful and whimsical — the opposite of the sterile, emotionless effect that often accompanies more "flat" interfaces.
The bigger change is actually with the color palette. Richer, more earthy tones are out and bright, bold primary colors and gradients are in. White space is also in abundance and when combined with accent colors and the Helvetica Neue typeface, everything looks ultra-crisp and modern.
Beyond just the look of icons, Apple has also changed the way apps interact. Animations are abundant — opening an app or popping into a folder is Ken Burns-esque. Gestures to move forward or back are viewable throughout the OS, especially in Safari.
Moreover, as I said when discussing the first iOS 7 beta, everything just feels faster and more fluid.
The visual language for text also received an overhaul. Not only did the system font change to Helvetica Neue, buttons have largely moved from icons to being driven by text. Some will appreciate this change while others will prefer the old glyph style.
Text takes a big priority in Notification Center — with natural language replacing the old widgetized look.
Notification Center and Control Center
Apple introduced Notification Center back in iOS 5. Originally, it was just a place to store app notifications, as well as offer a look at stuff like weather, calendars and reminders.
With iOS 6, Notification was improved, but the basic conceit was the same.
In iOS 7, Notification Center not only gets a big visual overhaul, it gets increasingly more useful too.
Now, instead of having all notifications displayed in one window, They can be grouped into three categories "Today," "All" and "Missed." The "today" tab is fabulous because it shows a textual overview of weather as well as your next Calendar event. Beneath, there's visual overview of what's happening on your Calendar that day. You can also see your stocks and a text preview of your events for tomorrow.
In the "all" tab, you see notifications from various apps. This includes text messages, email notifications and other app updates. The "missed" tab shows any notification you missed, either while your phone was locked or in another app.
For me, this has made Notification Center infinitely more powerful and useful. My only lament is that it's no longer possible to compose a tweet or Facebook post from the Notification Center. This was one of my favorite quick-action features of iOS 6, and it's sad to see it go.
The other "center" in iOS 7 is the new Control Center. Control Center answers a long-standing gripe amongst iOS users and offers easy access to frequently updated settings.
Pulling up from the bottom brings up a window that provides access to music controls, brightness, one-tap access to Airplane Mode, Wi-Fi, Bluetooth, Night Mode and Orientation Lock. You also have one-tap access to a new flashlight, the timer/alarms, the calculator app and the camera. AirPlay and AirDrop are easily accessible as well.
The whole concept of Control Center is old hat to Android users, who have had easy access to these kinds of settings either through widgets, OEM skins or from Android proper since at least the Eclair days. In fact, some of the earliest Jailbreak tweaks for iOS were to add this sort of quick-toggle functionality. I'm not claiming that this feature is innovative — I'm just glad it's finally on iOS.
If I have any complaints, it's that there isn't a Safari button on Control Center. Having one-tap access to the browser from any other place on the phone would be excellent.
Folders, Spotlight, Gestures
In the past, iOS was limited to 16 apps per folder on iPhone and 20 on iPad. This may seem fine for some users, but if you have hundreds of apps on your phone, you'll be like me and have three full folders just of photo apps. In iOS 7, you can have an unlimited number of apps in a folder. Instead, folders now have pages that are easy to swipe through.
Spotlight search is also improved. In earlier versions of iOS, you had to swipe to the right of the first page of apps to access Spotlight. Now, you simply pull down any home screen (except for from the top or the bottom strip of "permanent" apps) and a Spotlight search pops up. This is easily one of my favorite features because I frequently use Spotlight to quickly access apps rather than navigating through folders.
The swipe-down-for-Spotlight feature is just one of the many gestures added to iOS 7. With iOS 5, Apple added experimental multi-finger support for the iPad. This allowed users to open, close and scroll through apps more easily.
This has been expanded in iOS 7 and also includes more iPhone gestures. Swiping to the left or right on a tabbed top menu layout (like in Notification Center) swipes between tabs. In Safari, swiping to the left or right of the screen acts as back or forward.
Just as pinch-to-zoom naturally made sense as soon as it was released, the multi-touch gestures — especially for navigating forward and back — just feels right.
If you've ever used Palm's webOS, you know how multitasking works on iOS 7. Double-tapping on the home button brings up an app selector — just as in prior versions of iOS — but instead of seeing icons, users see full previews of their other apps in a card-like fashion. Tapping the app window launches the app and flicking the app window towards the top stops it from running.
This is a much more preferable way of switching between apps than prior versions of iOS. It's also easier for users to decide to stop an app or shut it down.
In addition to the new multitasking metaphor, Apple has given applications the ability to continue to update in the background. This is similar to the way Android apps work, and it lets apps perform tasks even if they aren't currently open or being used.
In the past, Apple has restricted background operations to apps that use certain accessibility settings, some location settings (for things such as turn-by-turn navigation) and built-in applications. With iOS 7, developers now have an API that can allow an app to refresh in the background, grabbing new content and pushing it out to the user.
This is both a good and bad development.
It's good because it means that a podcasting app — say Downcast or Pocket Casts — can automatically download new episodes in the background. The same is true of an RSS reader or an app such as Instapaper or Pocket. This type of background refresh was available to Newsstand apps in earlier versions of iOS — allowing users to have new issues of a publication automatically downloaded and ready as soon as they launch the app.
The extension to more types of apps theoretically means that loading apps that regularly poll data servers should be faster than ever.
To be clear, this isn't a full adoption of Android's multitasking system — which is closer to the "full" multitasking systems that desktop operating systems such as OS X and Windows 8 employ — but it does let apps get more information without being open or actively running.
The bad part of background app refresh (as Apple calls it) is that it also means that apps can suck more battery power.
Users can opt to turn off background app refresh — or select what apps have permission to refresh in the background via a panel in Settings — but let's be honest: Most users aren't going to be obsessed with finely tuning their background app controls.
As a result, apps that users don't use very often might be able to make background requests, and this could drain battery life. I'll be interested in seeing how Apple support starts advising users to use background refresh. In my own tests, once apps with background refresh became available, I noticed a more significant drain on my iPhone 5.
It's not just the UI that changed with iOS 7; Apple also gave its built-in apps a fresh coat of paint, and in many cases, new features.
Safari got some great JavaScript improvements, and the browser runs faster than before. Moreover, the tab interface on the iPhone is now three-dimensional and users aren't restricted to eight open tabs. You can have many tabs open, and it pulls in any tabs cloud-synced with Safari on OS X seamlessly.
The Reading List feature gets a big update with support for links from your Twitter followers. Any link that's included in a tweet from someone you follow on Twitter shows up in a stream. Tapping on the link opens it up and you can choose to read it now or save it for later.
iTunes functions the same as before, except it now has iTunes Radio — Apple's long-expected Pandora competitor. We'll cover iTunes Radio more in-depth in a future review, but it works well on the iPhone and iPad.
Apple Maps was given a visual overhaul. The realistic 3D maps are still there, but the mapping view is cleaner, and similar to what you see with Google Maps. Transit maps still aren't built in, but we hope the recent acquisitions of HopStop and Embark mean that will soon become a native feature. Speaking of Maps, if you haven't used them in a while (and I hadn't), it's worth revisiting. Most of the biggest problems from iOS 6 are fixed and I find the location data just as good as what you get with Google, albeit without built-in transit.
Siri gets a big update with iOS 7 — by way of an updated female voice and a male option for the U.S. Siri can also now be used to do system tasks — "open settings" or "open brightness," for example. Siri is also better integrated with Twitter and can search tweets and mentions.
The camera software in iPhone 5 got a total overhaul. You can now easily move between photo and video with a swipe and take photos in a square format. There are also an array of live filters you can use for taking photo or video. The burst button lets you take shots in quick succession.
Viewing photos is now easier as they are auto-arranged by date and location, making it super-easy to find the right shot.
FaceTime now supports audio-only calls, which means you can have a voice call with a contact.
The phone dialer looks new and fresh, but otherwise works as you would expect.
AirDrop works on the iPhone 5, iPad 4, iPad mini and fifth-generation iPod touch or later. It requires that Bluetooth and WiFi be enabled and it lets users quickly share items with one another.
It's a proximity-based technology — you can't be more than about 15 feet away from a person in our test — but it allows for seamless sharing of files or photos. AirDrop is a snap to use. By default, you can share only with those in your contacts — but you can also enable AirDrop to work with anyone around you.
It's not NFC, but for file transfer, it's every bit as good.
Automatic Updates and New Built-In Services
By default, all app updates are applied automatically. This is great for users that hate having to slog through their updates. If you want to turn off this option and update manually, you can.
Vimeo and Flickr are now built-in to iOS 7 — just like Facebook and Twitter. This means you can share photos or videos directly to those services from the camera app and in other share sheets.
On the iPad
As of right now, the iPhone version of iOS 7 seems a bit more solid and refined than the version on the iPad. This isn't to say iOS 7 is bad on the iPad — it's not — but it doesn't feel as polished or as finished.
On my third-generation iPad (the first with the retina display), I noticed that some tasks seemed a bit slower. This wasn't as evident on an iPad 4 or iPad mini, so that just might be my device.
Some applications, such as Safari, weren't modified as much on the iPad. Aside from the new omnibar — which lets you search or enter a URL in the same field — and icon theme, Safari looks the same as it did before.
I wouldn't be surprised to see a point update to iOS 7 arrive in conjunction with the next wave of iPad devices. That update might also bring one of the only features not included with iOS 7 — iCloud Keychain. iCloud Keychain was available in the iOS 7 developer betas, but since it works so closely with OS X Mavericks, it makes sense that it won't launch until Mavericks arrives later this fall.
Wrapping Up
iOS 7 is a massive update. It's not only an overhaul of how the system looks, there are tons of new features under the hood that change the way developers build apps and change the overall "feel" of the OS.
The new look might have been polarizing at first — but I firmly believe most users will come to really like it over time.
You really need to fully use iOS 7 for a few days to really get a sense of the changes. This is a big update but one that makes the OS feel more modern and complete.
Many Android users point out that many of the newest marquee features are merely playing "catch-up" with Google's mobile OS. That's a fair point, but it misses one fundamental bit of truth: iOS 7 still feels more polished and unified than even the pure Google implementations of Android.
iOS 7 has a little bit of something for everyone. For power users — the improved folder support, the ability to have background apps pull in new data, and Siri's improvements really make life easier. For regular users, the new look and bits of UI whimsy are a fun addition.
As more and more apps are updated to support iOS 7, the more we'll really start to see just what this OS can do. From game-controller support to better features for wearable devices, there's a lot of stuff in iOS 7 that is still undiscovered. We can't wait to watch it get better.
Bottom Line:
 Even if you don't have one of the new iPhones, iOS 7 make you feel like you have a new device that's more than ready for the future.
Google has added a MyGlass update that allows Android users to turn the companion app into a remote control.
The update comes after some users noted the interaction behind the Glass technology wasn't as smooth as anticipated. They reported awkward transitions among the swipe bar, head nods and voice commands.
The MyGlass app, which can be used as a remote control for the headgear, fixes this issue. It allows users to "touch/swipe/tap" to control the Glass user interface through the screencast experience, as described on Google Play.
The Verge noted that the update should also make it easier to take photos and video surreptitiously.
Some Google+ users have reported the remote control update doesn't work yet and may require a matching Glass update. As its Google Play page states, "If you don't have Glass, then downloading this will be a waste of time."
Browse Also: Google's Upcoming Glass Apps Store
Hiring a lead developer for your startup is a "make-it-or-break-it-moment." This is the person whose creative vision and technical know-how will determine the success of your product. This is the leader who will guide the engineers you hire down the line, accessing each of their strengths to maximize potential for innovation. And this is the person who will determine, through ability and ambition, whether your product is a standout or just another bit of noise in a tech scene full of loud voices.
But you probably already know that. You're probably wondering how you'll ever find the right person to serve as your startup's lead developer, when the person who excels in interviews and jumps out on paper may not necessarily live up to your expectations.
Those are some valid concerns, and we understand why you're holding off from doling out the offer. We're here to provide you with important tips for hiring your top technical talent, to make sure you hire the right visionary to lead your brilliant idea to technical perfection.
Look Where They Hang Out,
If you were looking for great athletic talent, you would go to a batting cage, a gymnasium or a track. If you want to meet a brilliant developer, check out a local meeting for programmers.
Flatiron School founder Avi Flombaum recommends checking out Meetup.
"You find the right types of people from going to meetups, where those people might be hanging out," he says. "Programming meetups are great for finding the people with the right experience."
Flombaum recommends CTO Meetups for a more senior bunch of developers, as well as Agile Development Meetups, and the New York-local NYC on Rails Meetup and NYC.rb Meetup.
Avoid Quiet Geeks,
While you should never underestimate a true geek's creativity, you want your lead developer to be a leader. Someone who's not a great communicator really should not be considered.
"We look for the ability to speak to humans," Thrillist CTO Mark O'Neill told Mashable."Can you communicate well with non-geeks?"
Flombaum agrees, emphasizing the potential of developers who teach and write. You should think of the people who you've heard speak about programming and whose writing has inspired you.
"I think teachers, people who are teaching courses on Skillshare, make great mentors and leaders," Flombaum says. "I like to look for people who can articulate their thoughts in writing. You should think, 'Whose blog do I like reading?'"
Seek Technical Experience and Expertise,
Though it should seem like a no-brainer, all of the hiring experts we spoke with emphasized the need for dazzling technical credentials.
"The first thing we look for are top-notch technical skills backed by the right experience," KonyCEO Raj Koneru says. "At Kony we put special emphasis on solid leadership skills, because in order for us to scale effectively, the lead has to motivate their developers to go well over and beyond the regular call of duty. In true developer fashion, leads will only be respected if they prove that they're technical experts."
Birchbox CTO Liz Crawford echoed the need for technical expertise. "Our ideal candidates are committed to delivering the best possible customer experience, value software engineering practices and never forget about scalability and reusability when designing code."
However, according to O'Neill, tech know-how doesn't guarantee an understanding of the Internet.
"We ask, do they understand the web?" he says. "We've seen great technical talent have a hard time adjusting if they've never worked on the web before."
Look Beyond the Usual Suspects,
The right lead developer for your startup may not be someone who's currently seeking a job, so look beyond job boards and applications submitted.
"The right developer might not know they're in the market for another job," Flombaum says. "There are a lot of great programming newsletters that feature sponsored positions, and they're read by developers who aren't looking for jobs."
In addition to going to Meetups where great developers mingle with other great developers, you should make sure your listing is seen by engineers happily employed or working on a project.
Ensure a Cultural Fit,
Working in a startup, there's not room for a bunch of giant egos butting heads. There also isn't room for people not willing to be scrappy and pick up additional tasks that are beyond the agreed-upon job description.
"We look for non-divas," O'Neill says. "Yes, they are smart, but we need leaders who are also grounded."
Crawford agree, noting that Birchbox seeks out engineers who "love to learn and are team players."