Drawing and sketching were once activities limited to pencil and paper, but for budding artists in the digital age, there's a wealth of online, browser-based tools to let your creativity run wild.
It doesn't just have to be a hobby or pastime, though — drawing is useful for brainstorming and problem-solving, and these web apps can aid in any profession.
VISIT ALSO: 3 Tools to Build Your Mobile Apps
We've picked 12 of the best drawing and sketching apps to suit any level of artist, ranging from professional-grade applications to simple tools for doodling. They're all free, and since they're all online, they can be accessed from anywhere.
Sketchpad is a browser-based drawing and image editor built in HTML5, combining WebGL effects with vector editing. Its rich, flexible feature set means you can create almost any image you want. It's super simple to save your work — just click the disk icon in the top right of the screen, and the program displays your image as a PNG, which you can then save to your desktop.
The drawing tools include text, brush, shape, pencil, paint bucket, stamp, spirograph, calligraphy, marquee, crop, eraser and color-picker. Sketchpad also supports gradients, and the History palette allows you to review previous revisions.
PencilApp is a recently released, simple, browser-based pencil application that is perfect for quick sketches and drawings. It features a minimalist interface with just a pencil, eraser and a text-typing tool. You can change the size of the text and choose from one of the five pre-defined colors.
While there's no "undo" command, you can choose the eraser tool and edit out something you've drawn. The Save function allows you to save your artwork as an image.
PencilApp is built using HTML5, CSS3 and the (jQuery) jqScribble plugin.
AWW (which stands for A Web Whiteboard) is an online whiteboard and drawing app that allows for basic collaboration with a group of people using a variety of devices. The simplistic nature of the interface and controls means there is a low learning curve and you can get started straight away.
It features a choice of seven colors, three sizes of pencil, an eraser and a text tool. To invite others to collaborate, just send them a link to your drawing board and they can join the project. You can save the drawing as a PNG image and upload, share or send through email.
You can embed AWW on your own site using the plugin or API.
Sumo Paint is a fully featured image editing and painting app, which at first glance feels like a browser-based version of Adobe Photoshop. You can edit existing images or start with a blank canvas, with a wealth of advanced features to make use of, including layering tools, blending modes, blur tools and the ability to make finite adjustments to an image to improve the quality.
Other options include contrast, color balance, brightness and more. Once you've finished your creation, you can save the image to your desktop in PNG or JPG format, or as a SUMO file that you can open and edit at a later time.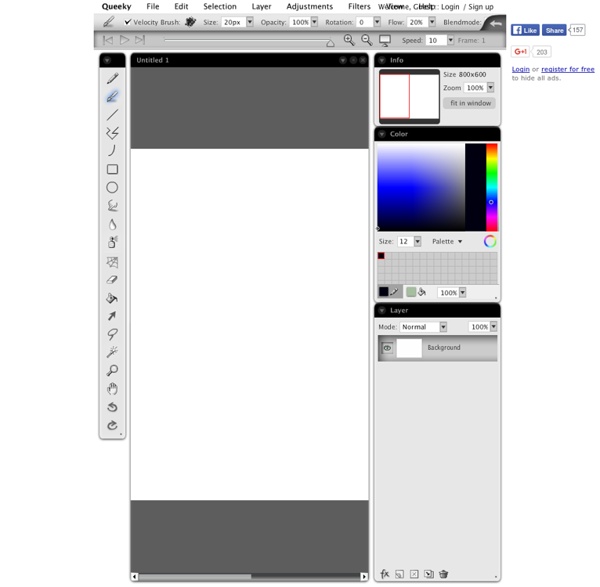 QueekyPaint is a unique online drawing tool that allows you to create videos of your work while you're painting. You can create your own speed paint artwork, or visit the galleries to learn from the creation process of other artists. It also offers you the ability to edit your photos, publish your artwork and collaborate in projects and groups to meet artists with similar interests. You can even create your own group for a specific topic and invite others to join.
Save artwork to your desktop or Queeky account, or export it as a JPG, GIF or PNG. You can edit images using the suite of tools provided, which includes generic tools, layer effects, filters and adjustment options such as contrast, brightness and more.
Pencil Madness is a simple app that lets you draw and publish images to the Pencil Madness gallery. You can save Images to your desktop as JPG or SVG files once you're finished. The app features a number of brushes and brush effects to draw whatever you choose, along with a range of colors. You can change the size and opacity of the brush, use the eraser, zoom in and out, and even undo and redo actions. Extract colors from an image to create a color palette to use within your drawing.
The app is also available on the Amazon App marketplace to use on your Android mobile device.
Sketchpad is a fun, feature-rich drawing application written in HTML5. It's non-destructive and doesn't limit itself to just drawing and sketching — you can even sign PDF documents and export them to your desktop, which is much more efficient than downloading, printing, filling in, scanning and so on. It features an easy-to-use drag-and-drop interface with many tools, including text, paintbrush, pencil, calligraphy, stamp, spirograph, crayon, arrows and more.
You can undo, redo and erase any part of your creation, and even take images using your computers in-built camera.
Sketch & Paint allows you to get creative and get started quickly. Its simple interface and variety of sketching tools include a paintbrush, color kit, zoom view, eraser and opacity. You can set the dimension of the canvas, set your color and brush properties (such as size, pressure, diffusion, scatter and shake). Multi-level undo and redo is included, and every line you draw is treated as an individual object and can be dragged and deleted separately.
Keyboard shortcut functionality is provided, which makes it easy to select and adjust tools and settings.
Draw Island is a simple web-based tool for creating drawings and GIF animations, with the option of various canvas sizes, and featuring pencil and paintbrushes. You can increase the brush size and opacity level, or choose between the shapes available to create your drawing. There's an undo and redo function, as well as an eraser to remove any unwanted parts of your artwork. You can use the color wheel to pick any color you want, or you can enter your own Hex code.
You can import images, easily create a GIF, control the animation delay, and add text to any drawing.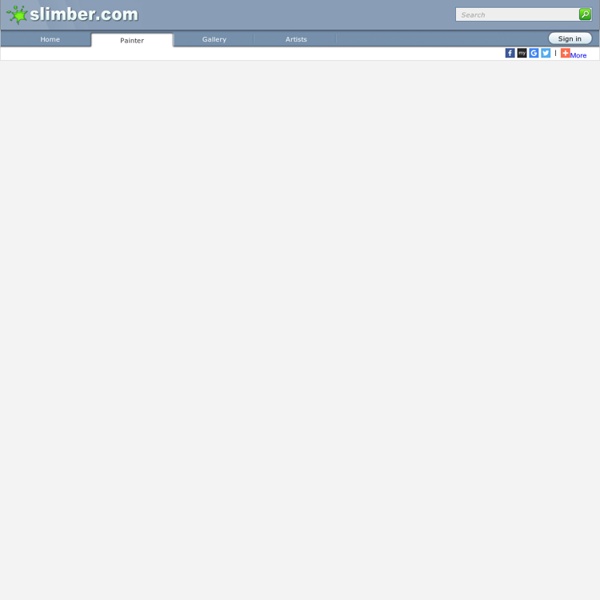 Slimber is a browser-based app that allows you to draw, replay and save your artwork. It's easy to get started — just choose your canvas dimensions and begin creating. A palette of tools is provided, which includes a pencil, brush, line, shapes, paint bucket, eraser and color-picker. You can choose the size, spacing, shape, overlay and flow of your paintbrush and specify your preferred RGB color.
Once you're finished, you can click "play" and it will rerun your artistic process. Then you can save and write a description of your artwork. Submit your piece to the gallery to see your creation and receive the URL address or embed code to share.
deviantArt Muro is an online HTML5 drawing application, released in 2010 as a celebratory offering for deviantArt's 10th birthday. It's perfect for both hobbyist doodlers and professional artists. Your work is saved automatically (to your Sta.sh account) from your first brush stroke, and you can share your creative process to be replayed, published and shared. There are more than 20 brushes to choose from, and you can specify brush opacity, size and fill opacity. You can add or remove layers and adjust brightness and contrast. Filters include blur, sharpen, high pass, emboss, noise and more.
Images can be exported as PNG, layers or saved to your Sta.sh account.
FlockDraw is a seamless collaborative drawing and painting tool that makes it easy to draw in real-time with other people (or simply create your own art). To begin, click "Create your session" and start drawing, and invite others to join by providing them with your unique URL.
Use shapes, text, lines, the brush tool and the provided color palette to create your own drawing. You change the size of your brush, and save your image to the gallery or share it on social media or via the unique URL.